While I do wipe down the dog's ears after plucking, I do not fill the ear canal or rinse out the dog's ears. I wait at least a couple of days for the tissue to settle down because the regular cleaning solution I use contains alcohol and would sting. Think about plucking eye brows or shaving then swabbing with alcohol. Ouch! I do use an alcohol-free solution to wipe the outer area down with to remove ear wax and powder... excess powder can also often be removed when the dog shakes off. I still wipe the ears down after.
Some people prefer to use tools to remove ear hair... though I have a couple of hemostats, I choose to use my fingers instead. I don't have to worry accidently injuring the dog if he suddenly moves. I surely don't have the most beautiful hands but my short nails won't cause this dog any harm either. You will need to be careful if you do have longer finger nails.
Ear care products I used in this demonstration.
There are many others... use the ones you feel work best.
Bio-Groom Ear-Fresh Astringent Ear Powder
Use: Ear powder allows you to get a better grip on the hair your trying to remove.

Pfizer Oti-Clens, Butler Euclens Otic Cleanser or any canine ear cleaner that will not sting.
Use: To remove ear wax from the outer ear canal and ear flap.

Cotton balls and cotton swabs.
Use: To remove wax.

If your dog is prone to ear infections, speak with your vet about the best products to use. Also ask whether applying an ear antibiotic like Mometamax immediately after plucking might help to prevent ear infections due to bacteria. This product requires a prescription.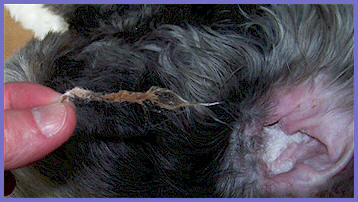 This clumped together, waxy clump of hair was removed from deep in the ear canal. Hair left in the ears tends to collect wax and it can also limit air flow.