If you want something a little different to decorate that topknot, check out your local fabric or craft store button section. There are some fun designs available... even some designs that are more appropriate for BOYS! They're really easy to assemble so instructions are likely not required but we're providing them just in case!
There are usually two ways to assemble them into hair decorations. If it doesn't make a difference which direction the button points, just slip the hair band elastic through the hole, form a loop and tie the ends together.

The buttons below face like diagram A above. I want
them to be able to face left or right so I did the following...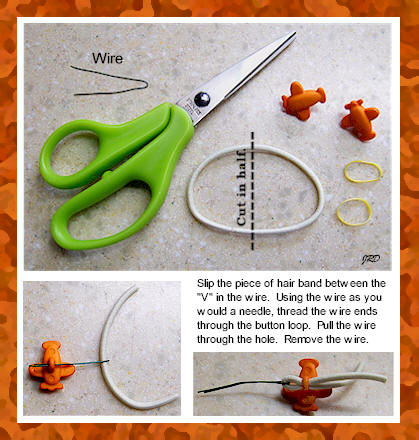 You now have a loop and two hair band tails. (See below)

Thread both tails through the loop and pull the tails evenly to tighten.

Tie the end of the tails into a knot and trim the tails if needed. Depending on the thickness of the hair hair it will wrap around, you may need to adjust the hair band knot to make it looser or tighter.

Repeat if you want two decorations.

Put the hair up with your regular bands... I use little no-snag elastics... then slip the decorative hair bands on.
IMPORTANT: Make sure they're tight enough so they won't fall into the water bowl or food dish when the dog lowers his/her head! If you dog might eat them, be certain they're tight enough to stay in place or don't use them!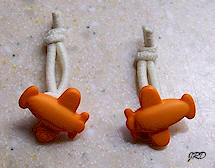 Caution: Buttons of any kind are not suitable for dogs if he/she (or another dog in the home) may eat inappropriate things. Note too that these would be a choking hazard for small children. If this is the case, only use tiny elastic hair bands.

Regular buttons with two holes through the front work too. For standard 2 hole buttons, just cut the hair band in half or to the desired length, thread the ends through the holes from the front of the button, tie a knot and trim.

I used tweezers to help get the hair band through the holes because it was a snug fit.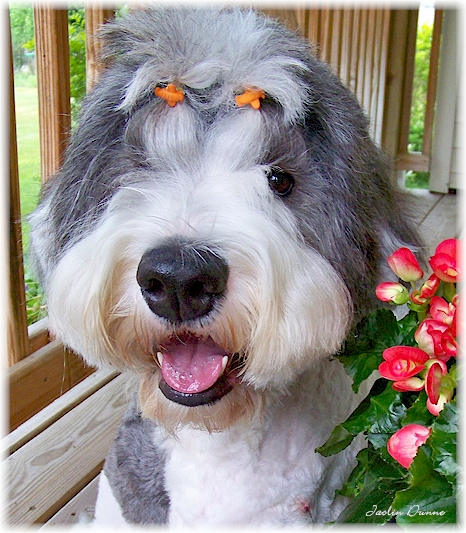 (This dog's hair by the inside corners of his eyes is
in the growing out stage after being trimmed short.)